Charles Wesley Lane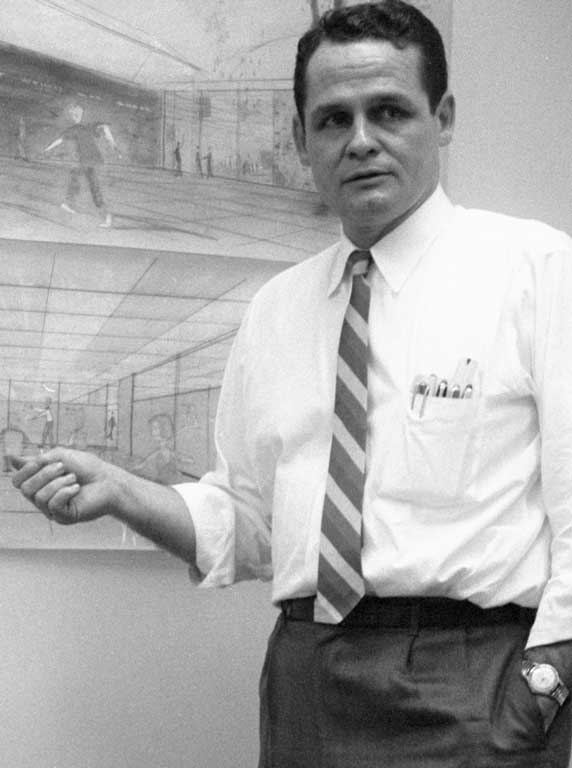 Charles Lane went by the nickname "Wes." Born in Harrisville, MI in 1919, Wes Lane earned his architecture degree from the University of Michigan's College of Architecture and Design in 1941. He won both the prestigious George G. Booth Traveling Fellowship and a coveted fellowship to study with Eliel Saarinen at Cranbrook Academy of Art, but the war intervened. He spent the war years, 1942-1946, in the South Pacific with the US Navy, attaining the rank of Lt. Commander in the photographic intelligence group. His work included reading aerial photographs. He participated in the battles of Iwo Jima and Okinawa, and later he was sent to take photographs of Hiroshima and Nagasaki. He left the service in 1946. Earlier, he had married Mary Jean (familiarly "MJ") Bishop on September 4, 1943. Back in Michigan, Wes Lane worked side by side with Robert Metcalf in Professor George Brigham, Jr.'s research lab/architectural practice, until starting up his own firm in 1952 (and Robert Metcalf his in 1953).
An insight into their experiences with George Brigham can be gained by reviewing the story of the prefabricated five-room house built beside the East Engineering building in 1944. It was made of 8' x 16' units fitted on to concrete foundation posts, with wall panels and flooring pre-fitted with plumbing, electricity and heating fixtures. This project was authorized by the War Production Board's Office of Production and Development, which was then run by Philip N. Youtz (who later became Dean of the College of Architecture and Design). George Brigham had even prepared a plan to use these units to build a portable school with a large auditorium, to demonstrate the infinite expandability of the concept. The intense focus of this research attracted Wes Lane, who had previously worked on the design for hangars for dirigibles in Louisiana. He served as architectural engineer with the U.S. Army Corps of Engineers, the Naval Construction Services and as a designer and architect with private architectural firms. His experience prior to establishing the Lane firm in 1952 includes work on hospitals, office buildings, airfields and defense installations, commercial designs and residences.
Between 1952 and 1969, when he retired, Wes Lane's firms—Charles W. Lane & Associates (CWL) and later, after 1957, Lane, Riebe, Weiland & Associates (LRW)—engaged in a wide variety of projects throughout Michigan, in New Jersey and Pennsylvania, and in Canada. An unusual project in 1958 highlights the firm's capabilities. To add wall space and ease of access to the Alumni Memorial Building at the University of Michigan (the university art museum building), a design using components from the Unistrut corporation (another system for prefabricated construction) filled in the transept area west of the apse. This was a remarkable thing to do to the interior of a venerable building in 1958, particularly a classical building detailed with columns, marble elements, and a two-story interior space.
But beyond the laboratory buildings, the fire stations and the commercial buildings, the firm's specialty was in building schools. Wes Lane was noted for his readiness to work with school personnel to determine specific needs and to keep costs low. For example, CWL brought in two elementary schools, the Wines and Dicken Schools, at $811,000 each, while at the same time in 1957, the Louis Kingscott company in Kalamazoo brought in the Pattengill School at $867,000. CWL was known for his exacting and accurate estimates of building costs, many of them provided by Keith Weiland. CWL and LRW also acted as consultants to school districts, working together with faculty at the U of M School of Education and together traveling the state. The firm even acted as a consultant for the American School of the International Schools of the Hague in the mid-60s. Awareness of LRW's expertise at this time (1963) was quite high, as demonstrated by the international success of a design for a school in Novi, MI. This design, part of a United States Information Agency exhibition traveling in Europe, appeared in Vitrum, a magazine published in Milan, Italy. The building was cited for its "outstanding design and maximum economy."
At this time too LRW was given the contract for the Huron High School project. This was the career high point for Charles Lane. The riverside landscape and soil conditions of the area determined the unusual shape of the building. Because only two areas could sustain large structures, the proposal was for two circular classroom areas to be connected by an arching bridge. Automobile traffic would pass under the arch to drop off and pick up students. In its colonnade of arched windows at the level of the drive-through, the building echoes Frank Lloyd Wright's futuristic Marin County Courthouse. As it happened, changing expectations from the client and stubborn labor problems turned this project into a nightmare. The school came in a year late (forcing the school district to double-up at Pioneer High), and as a result of the add-ons after the contract was signed and labor issues, it ran over budget. Nevertheless, the finished building continues to attract favorable commentary and inspires admiration, even awe. Huron High is one of Ann Arbor's most striking buildings.
In terms of residential construction in Ann Arbor, Wes Lane designed several notable houses, starting with his own house at 1160 Blakeway. The house contained his architectural office for a number of years. Other houses include the Wingo residence at 3490, East Huron River Drive, the Crippen house at 911 Robin Road, and the Hamer house at 1742 Westridge Road. His own house (1950) shows influence from George Brigham while the later houses reflect a more horizontal single-level treatment, with covered patios and car ports. In choosing the property and building his own house, he told his son Roger: "I want to build a house, stay in one place and have my kids go to one school." One of his reasons for this sentiment: throughout his youth Wes Lane had attended twenty-six different schools.
Wes Lane was a member of the American Institute of Architects, a member of the Michigan Society of Architects and a founder of the Huron Valley Chapter of the American Institute of Architects (HVCAIA) in 1963. He served as its first Vice President. In 2002 he received a lifetime achievement award from the HVCAIA. Wes Lane retired after completing the Huron High School project, turning his attention to the study of prefabricated housing, the design of mobile homes, and the planning of mobile home parks. After some time away, he returned to Ann Arbor. Charles Wesley Lane passed away October 25, 2002 at the age of 83.
Selected Projects in Ann Arbor from more than 40 residences and dozens of schools
Residences:
James A. Crippen 911 Robin Road, Ann Arbor
John M. Fraser 2216 Melrose Avenue, Ann Arbor
E. G. Hamer 1742 Westridge Road, Ann Arbor
Charles W. Lane 1160 Blakeway
Herbert E. Miller 1925 Scottwood Avenue, Ann Arbor
Lawrence L. Rauch 11 Harvard Place, Ann Arbor
W. Louis Wenger 1419 Kearney Road, Ann Arbor
G. Max Wingo 3490 East Huron Drive, Ann Arbor
By Jeffrey Welch
All rights reserved
July 18, 2020