Edward Bartholf (Ted) Smith, Jr., born in Buffalo, New York,(1931), following high school in South Orange/Maplewood New Jersey, was trained as an architect at the University of Michigan College of Architecture and Design between 1948 and 1953. Following apprenticeship with Paul Kasurin, James Livingston, and Daniels/Zrmack, he became licensed in 1958 and practiced in Ann Arbor until 1971.
In 1951, Ted married Dottie Boyer, a nurse from California with whom he had five children, all born in Ann Arbor. Prior to licensure he designed several houses for local builders including Staebler and Son, Krause and Krampien, and in 1956 one for his own family at 1006 Country Club Road, just west of Barton Hills. Upon opening his own architectural practice in 1959, inspired by the residential work of Marcel Breuer, local architects George Brigham, Robert Metcalf and the plank and beam houses by Northern California builder Joseph Eichler, viewed during several visits to California, his early work included many Ann Arbor houses with that character.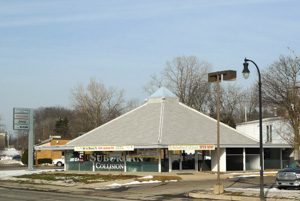 Gaining a reputation from that residential work, Ted was commissioned for many student housing projects on campus including work for John Stegeman, Norris and Helen Post and subsequently many commercial projects including the Smith/Krause Office Building at 1817 W. Stadium, Naylor Motor Sales, with a "pentastar" shaped showroom reflecting the Chrysler logo. In addition to apartments and commercial work he continued to design several houses including in 1960 a second home for his family in at 1030 Spruce Drive in Riverside Hills, just east of Ann Arbor Hills.
In 1969, during a western family vacation he discovered Sunriver, an exciting 5,500 acre "new town" being constructed in Central Oregon just south of Bend. Intrigued with the architecture, goals of the project Owners and natural beauty of the area, Ted contacted the principals and in 1971 was hired as Development Manager and Resident Architect, a position he held for five years until the Development was sold to an insurance company. By then, he had become licensed in Oregon and opened his own practice, again doing mostly houses including one for his family but now with the intrinsic regional character of the area. He continued his practice until 1989 when from 97 applicants when he was offered and accepted the position of Director of Planning and Design for the Sea Ranch, a world renowned development on the Sonoma, California Coast.
In that capacity, for twelve years he was a member of the Design Committee, managed the affairs of that committee, and now licensed in California, was responsible for long range community planning and designed and managed construction of the Del Mar Center including Meeting Hall and swimming facilities. In 2000, he retired from that position, moving to Lincoln Hills, California where he continues to practice architecture, doing occasional houses at the Sea Ranch, some work in the Lincoln area, and member of the City of Lincoln Design Review Board. Ted's work in Michigan, Oregon, and the Sea Ranch may be seen on his web site: tedsmitharchitectaia.com.
Below is a list of Ted's Ann Arbor projects between 1955 and 1971:
Ann Arbor Tire Company        615 S. Main St.
Curtis Residence*                      2411 Blueberry Lane
Curtis-Graves Pediatric Clinic*    1825 W. Stadium Blvd.
Darrow Apartments*                610 S.Forest Ave.
Dames Apartments                   801 E. Ann St.
Faber Residence                        2455 Adare Rd.
Feingold Residence*                 352 Hilldale
Forest Post Apartments          912 S. Forest Ave.
Fritzche Apartments                422 E. Kingsley Street
Hoover Post Apartments        125 W. Hoover St.
Kasurin Residence*                 1509 Martha Ave.
Keller Residence*                     820 Mt.Pleasant Ave.
Kingsley Post Apartments      813 E. Kingsley St.
Kowalczyk Residence              3931 Waldenwood Rd.
Krause – Krampien*                 13 Fair Street Houses
Krause-Smith Offices               1817 W. Stadium Blvd.
Naylor Motor Sales*                 206 W. Stadium Blvd.
Raney and Bourne Tri-Level*        900 Pine Tree Dr.
Ranck Residence*                   16 Harvard Pl.
Richter Residence*                 3170 Dolph Dr.
Smith Residence*                   1006 Country Club Rd.
Smith Residence*                   1030 Spruce Dr.
Staebler & Sons – S & S Homes*    Various Locations, Miller/Newport area
Stegeman Apartments           214 N.Thayer St.
Stegeman Apartments           1316 Geddes Rd.
Stegeman Apartments           1364 Geddes Rd.
Stegeman Apartments           1224 Washtenaw Ave.
Stegeman Apartments           1333 Wilmot St.
Stegeman Apartments           909 Church St.
Stoll Apartments                     402 Hill St.
Strickland's Market*                1352 Geddes Rd.
Traver Park- Crawford Townhouses    Traver Rd.
Uhl Residence                         2120 Blueberry Ln.
Van Ells "The Peak" Ski Shop*    3162 Packard Rd.
Wickersham Apartments        1009 E. University Ave.
Wickersham Apartments*      727 Packard Rd.