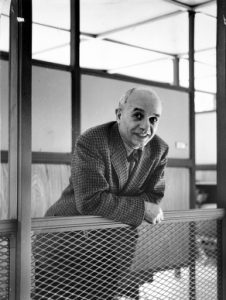 Joseph Francis Albano was born in Chicago, Illinois, on January 23, 1906. He attended the Armour Institute, Northwestern University, the Institute of Design and was a special student of Ludwig Mies van der Rohe at the Illinois Institute of Technology from 1944 to 1946. In 1947 he accepted an Assistant Professor of Architecture position at the University of Michigan, was promoted to Associate Professor in 1954, and Professor in 1959. While teaching, Albano maintained a partnership with fellow professor Edward Olencki. Albano retired from the University of Michigan in 1971.
Other Ann Arbor Buildings:
1404 Beechwood Road (with Edward Olencki)
1158 Pomona Street
Image source: A. Alfred Taubman College of Architecture and Urban Design, Bentley Historical Library, University of Michigan, bl003609.