Nancy Marie Deromedi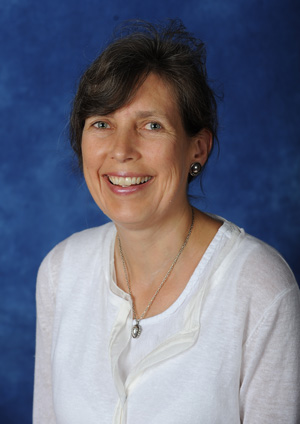 We are deeply saddened to post that Nancy Deromedi, one of the founders of a2Modern, passed away at home on Oct 13 at age 52 after saying her good-byes to her loving family and close friends.  She had bravely waged a year-long fight with esophageal cancer.  She made her mark on those who worked with her and who shared her passion for Ann Arbor's rich legacy of mid-century modernism architecture, and she will be deeply missed.
Nancy was born in Wyandotte, Michigan on November 9, 1961, the daughter of Jerry Allen and Gaye Kathleen Skinner.   She earned a business management degree at Ferris State in 1983 and pursued a career in retail clothing, arriving in Ann Arbor in 1986 to open a Laura Ashley store.   On November 17, 1990 she married David Deromedi and decided to make another change in her life by returning to school to study history at the University of Michigan.  Her future career was decided when she took a seminar in Michigan history from Francis Blouin, then Director of the Bentley Historical Library, which led to her great interest in using archival evidence of the past.
Nancy earned a B.A. from the School of Literature, Science and the Arts, and a Masters Degree from the School of Information.  She started working at the Bentley as an assistant archivist in 1997, rising through the ranks and was recently appointed Associate Director for Curation.  She was an expert curator of digital archives, designing a series of new and consequential best practices for preserving complex digital collections including the curation of digital archives from Governor Jennifer Granholm and University of Michigan President James J. Duderstadt, as well as the secure preservation of the University's essential administrative records from its executive offices.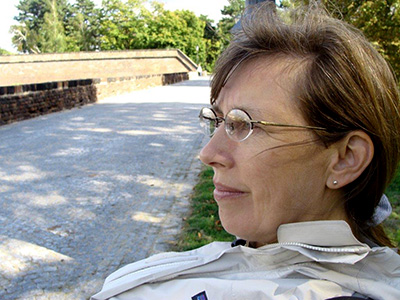 Her innovative ideas for solving some of the profession's most complicated challenges were awarded support by the Andrew W. Mellon Foundation, the National Historic Records and Publications Commission, and the University of Michigan Information and Technology Services.  Her work inspired a new publication series of the Society of American Archivists, entitled Campus Case Studies, and her reputation led to invitations to present at professional conferences as far away as Beijing, Copenhagen, Paris, Vienna, and throughout the U.S.  She was also a regular guest lecturer with the School of Information, the Society of American Archivists, Midwest Archives Conference, and others.
Her interest in mid-century modern architecture led to her contributions to the cultivation of important design collections for the Bentley from architects Robert Metcalf and David Osler, whose works, along with those of George Brigham, an earlier architect who was instrumental in introducing modern architecture to Ann Arbor, were recently featured at the University of Michigan Museum of Art in the exhibition series and symposium Three Michigan Architects:  Osler, Metcalf, and Brigham.
Nancy was a person of wide interests who sought to incorporate what she learned into how she lived, including with respect to her appreciation of history, art, architecture, design, gardening, and landscape. She loved spending time at her family's restored 1830's log house on the natural beauty of Pelee Island, Ontario.  While residing in an Old West Side arts and craft house, she researched the many aspects of this architectural and design style, collected furniture and pottery of the era, created a period correct landscape, and used her many travels as an opportunity to further her knowledge.
Nancy's deep interest in Ann Arbor's contributions to modernism took hold when, while browsing in the Bentley's stacks during breaks, she learned about George Brigham.  Nancy and David purchased the Brigham designed "Leslie and Mary White" home in 2005 and then worked with Robert Metcalf, who had assisted Brigham when the home was originally built in 1950, to make restorations.  This project evolved into her ongoing research and discovery of the amazing stock of mid-century houses in her neighborhood and throughout Ann Arbor, and the architects who designed them, and her development of a deep passion for mid-century design throughout the world.
In 2010 Nancy, along with other interested homeowners and local historians, founded a2Modern, with the goal of raising the awareness and preservation of Ann Arbor's legacy of modern architecture and design.  Recruiting others with like interests, in a short time she helped make the organization the magnet for everyone interested in this style, publishing a map of mid-century modern houses in Ann Arbor, organizing walks, field trips, house tours, and lectures, developing this website, as well as working with Eastern  Michigan University historic preservation students.  She was pleased last fall when she was able to get non-profit status for the organization.
In addition to her husband David and parents, she is survived by her siblings Jeffrey Allen Skinner (and wife Mio) of Osaka, Japan and Patricia Skinner- Smudz, (and husband Alan) of Monroe, MI,  parents in-law, Herb and Marilyn Deromedi of Mt. Pleasant, MI, sister-in-law Lori Deromedi  of Ann Arbor,  brother and sister-in-law Thomas and Lyndia Deromedi , of Linden, MI, and loving nieces and nephews Matthew, Anne, and Jessica Smudz , Noah and Ian Deromedi, and Kai and Riki Haiden-Skinner.
A memorial service will be held at the First Presbyterian Church, Ann Arbor on November 7, 2014 at 10:30 a.m. with a reception at the Ann Arbor City Club immediately following.
In lieu of flowers the family has requested memorial contributions to the Matthaei Botanical Gardens (www.lsa.umich.edu/mbg) or Arbor Hospice (www.arborhospice.org).