Three Michigan Architects: Part 1—David W. Osler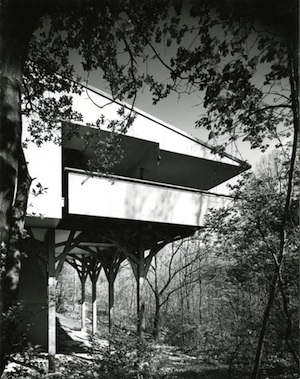 December 21, 2013–March 30, 2014
David Osler's domestic, institutional, commercial, and civic buildings represent some of the most distinctive and recognizable modern architecture in Michigan, predominantly in Washtenaw County. Born in 1921, Osler is an Ann Arbor native and graduated from the University of Michigan College of Architecture and Design in 1943. Returning to Ann Arbor after World War II, he worked in the architecture office of Douglas D. Loree, Architect, and in 1958 opened his own practice. While his earlier work was mostly residential, each decade saw Osler's firm receive larger commissions until he retired in 2008. However, throughout his career Osler continually received commissions to design modern houses that reflected his minimalist sensibilities.
This exhibition presents eight domestic projects that span his five-decade-long career from 1958–2008, highlighting a minimal design aesthetic that features crisp, clean, impeccably composed geometric lines and forms. Each project exemplifies Osler's modern mid-century architectural vocabulary, as he designed houses that physically and visually embrace their natural settings.
Three Michigan Architects: Part 1–Osler is the first in a series of three consecutive exhibitions, with subsequent presentations of domestic work by Robert Metcalf (April 5–July 13) and George Brigham (July 9–October 13). The series will culminate in Fall 2014 with a symposium, as well as the publication of Three Michigan Architects: Osler, Metcalf, and Brigham—both of which will explore the importance of this circle of Ann Arbor-based architects, situating their regional body of domestic work into the larger context of modern architecture in the U.S. that developed on the East Coast and West Coast from the 1930s–1980s.
This exhibition is part of the U-M Collections Collaborations series, which showcases the renowned and diverse collections of the University of Michigan. This series inaugurates UMMA's collaboration with the Bentley Historical Library, and is generously supported by the Andrew W. Mellon Foundation. Lead support for Three Michigan Architects is provided by the University of Michigan Office of the Vice President for Research.
Image citation: David Osler, architect, William Mundus residence (1978), Bentley Historical Library.
Note from a2modern
a2modern is very excited about the upcoming three exhibits that will be held at the University of Michigan's Museum of Art starting this December 21, 2013. During each of the three exhibits, a2modern will be hosting an interior view and tour of one of the architect's residential projects in Ann Arbor. These events will be part of our ongoing Modern Living Series. Stay tuned for more details of the Osler tour which will be in January!