Michigan Modern: Design that Shaped America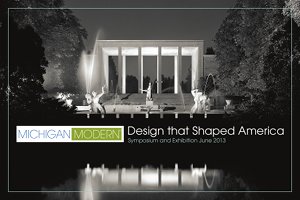 Save the Date
Michigan Modern: Design that Shaped America
Symposium and Exhibition June 2013
Symposium June 13–16, 2013
Cranbrook Educational Community, Bloomfield Hills, Michigan
Exhibition June 14–October 13, 2013
Cranbrook Art Museum, Bloomfield Hills, Michigan
Michigan's design visionaries touched nearly every aspect of American life.
Automobile companies stylized the cars that became part of the American dream
The furniture industry revolutionized the American home and office
Architects Eero Saarinen and Minoru Yamasaki defined an era.
Join nationally renowned speakers and tour Michigan's outstanding modern sites: General Motors Technical Center, Lafayette Park, Alden Dow Home and Studio, McGregor Memorial Center and the Ford River Rouge Plant.
For details, visit michiganmodern.org or call 517.373.1630. Symposium registration opens February 2013 and includes the exhibition opening reception.
Developed by the Michigan State Historic Preservation Office and Cranbrook Art Museum.