Modern Living Series
Modern Living Series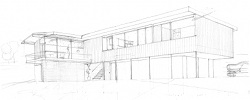 The mission of a2modern is to raise the awareness and appreciation of modern architecture and design. This year we have been fortunate to sponsor several "interior" views with talks in support of our mission. This year we have partnered with Bob Eckstein, Surovell Realtors to provide a discussion with the original builder, Joe O'Neal at a home designed by Arthur Browning Parker; we worked with Lawrence Tech University to visit the George Affleck home in Bloomfield Hills; and in September homeowners Bob and Judy Marans were very generous in opening the "Marshall Sahlins" home designed by Bob Metcalf to the group. a2modern is now very pleased to announce an opportunity to visit the Mr. and Mrs. Richard and Florence Crane residence.
Please join us for a tour of the "Crane house" designed by Bob Metcalf in 1954 and now owned by James and Linda Elert. This "interior view" will be to celebrate the recent work the Elerts have done in collaboration with Craig Borum, Ply Architecture. Craig Borum and Bob Metcalf will be at the event to give an overview of the work past and present!
When: November 18, 2012, 2-4:00 p.m.
Location: 830 Avon Road, Ann Arbor
Space is limited for this event, please RSVP modernists@a2modern.org
Cost: $5/donation to support future a2modern programs
Image: Richard and Florence Crane residence, rendering, Robert C. Metcalf collection, Bentley Historical Library.