ann arbor rotary award to david w osler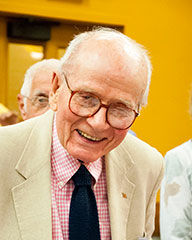 Architect David W. Osler received emeritus status by the Ann Arbor Rotary Society August 22, 2012. The event was held in the Michigan Union. Architect Ed Wier provided the talk on Osler's many achievements. Those remarks are provided below:
David W. Osler
David was born and raised in Ann Arbor, graduating from University High in 1938. There, he met Connie Lorch, the young lady who would later become his wife. David has always been an artist – as a young man he was enamored with the beautiful hand-drawn illustrations found in the magazine publications of the day, such as the Saturday Evening Post.
David attended the University of Michigan, studying design and illustration and graduating in the class of '42. David was a golfer while here at Michigan and was part of a Big Ten championship golf team. Following his time at the U-M, David enlisted in the Navy and served on the USS Thomas Jefferson, an assault transport ship. The Jefferson, with Osler aboard, played a key role in the Normandy invasion helping to transport the first wave of troops in the assault on Omaha Beach. Often overlooked, but equally harrowing from David's perspective was a later assault that he participated in while serving on the Jefferson that occurred in southern France.
After returning home from the war, David married his high school sweetheart, Connie. Connie's father, Emil Lorch, established the school of architecture at the University of Michigan and served as the school's first dean. David had already been working in the field of architecture – working with Ann Arbor architect Pete Loree. Having spent this time around architects and in architecture, David decided that a career in architecture could also fulfill his need for creative and artistic expression—and today we're all the better for it. David W. Osler Associates was established in 1958.
Over the course of a 50-year career, David compiled a diverse portfolio of building types ranging from single family homes to condominiums, libraries and churches. Notable projects in and around Ann Arbor include the Oslund Condominiums, St. Clare of Assisi Episcopal Church, the First Unitarian Universalist Church, the former Nellie Loving Branch of the Ann Arbor District Library, the Standing House at the Leslie Park Golf Course, Geddes Lake Condominiums, the Independence Lake Pavilions, and numerous private residences. Other noteworthy projects include the Gerstacker Language Center at Albion College, the Williams Research Corporation Headquarters in Walled Lake, and a particularly thoughtful and elegant addition to the Historic Howell Carnegie Library – a project that would win numerous library and design excellence awards. David Osler Associates won 22 Michigan AIA honor awards. This is a truly remarkable accomplishment – very rare for a small firm without departments delegated to marketing and public relations. In 1981, Osler was a finalist in the design competition for the Vietnam War Memorial in Washington, D.C. – one of only 15 entries to receive honorable mention for the commission that ultimately went to Maya Lin. In 2005 David W. Osler Associates was designated as Firm of the Year by the Michigan AIA, and in 1996 Osler was awarded the Michigan AIA Gold Medal Award – the highest honor the American Institute of Architects can bestow upon an architect.
When I recently asked David if he had any favorite projects, he was reluctant to name anything in particular – but felt the most important thing for all to know was that he tried to do his best on every project. Regardless of the size of the job, or the size of the budget, it was important to give each project your best effort. David's projects all share a care for context – they are modern, appropriate and timeless. I first came to know David when I was a young architect back in 1988. I was three years out of architectural school and looking for a new opportunity. David had recently been awarded the commission to design the addition to the downtown Ann Arbor library and was looking to add to his staff. Of course I was thrilled with the opportunity, but also a bit anxious. I knew little about David personally at the time, but I knew much about his reputation. You see, back in 1988, as is still true today, in the community of architects, we all know he's the best and most talented among us. Back at that time in 1988 – as a recently married frugal young architect – I would typically bring my lunch to work in a paper sack. To my surprise, David often did the same- except for Wednesday when he tried his best to get here. It was during those lunch times- usually still at our drafting boards – that I got a chance to know David better. One thing I learned was that we both shared a love for Michigan athletics. We'd swap stories of our favorite athletes, and compare eras. His favorite football team of all time – the 1947 team- now I didn't get to see that team play, but David says they were exceptional – and beyond that, many went on to exemplary careers outside of athletics.
Dave joined Rotary in 1974 at the urging of his friend, Chuck Cares. Chuck, a landscape architect and former chair of the Landscape Architecture Department here at U-M, was of course Ann Arbor Rotary club president in 1989. David's Rotary badge shows the patina of a longtime member. I'm sure most of us can look back on the early years of our professional careers and identify those people who taught us important lessons that would serve us throughout our careers. I consider myself fortunate to have had David Osler be one of those people for me. Now I know I'll never be the artist that David is – I've come to terms with that – but David taught all those around him about the value of consistent effort – coming to work every day and giving your best effort. That the details matter – that every project matters, even if it may seem minor or insignificant, if you're spending time to work on it, then give it your best effort. Don't make excuses, treat people right.
David and Connie have three children – they, too, are all artists. Molly is an interior designer here in Ann Arbor. Robin is an architect in New York and Peter, with whom I worked when I was at the firm, established the Landscape Architecture program at the Illinois Institute of Technology and now serves as the director of that program. I am honored to present David Osler as an Emeritus member of the Ann Arbor Rotary Club. (Remarks by Ed Wier, Aug. 22, 2012)
Photograph of David W. Osler courtesy of Ann Arbor Rotary.