tour and talk by original builder of a home designed by Arthur Browning Parker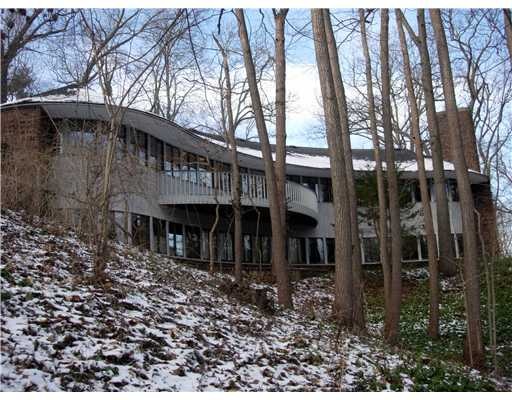 When: March 8, 2012
Time: 6:00-8:00 p.m.
Wine + Cheese refreshments
Talk will be by Joe O'Neal who was the original builder for this unique home.
This home is currently for sale through Bob Eckstein, Edward Surovell, realtors. Bob will be the host of the tour and is sponsoring this event.
Location + Parking: The home is located at the end of Orchard Hills (on a dirt road). The house is right next to the Palmer House. Street parking on Orchard Hills is non-existent and the driveway parking is reserved.
We have arranged for a local shuttle service to run from 5:45 p.m. to 8:15 p.m. continuously from the site. Please park your car on Awixa Road and either walk to the site or take the shuttle. The shuttle will pick-up at the corner of Awixa and Orchard Hills. If you do decide to walk, the distance is .35/mile.
Description of Home:
Stunning mid-century home designed by architect Alfred Browning Parker the father of the "Tropical Modernist" school of design.
Absolutely unique for this area, Parker's tropical modern style is not linear and rectangular as in the mid-century "California" style- but flowing and very organic in shape; spaces are defined by curved
walls, the roof's peak line is not linear but an arc, the ceiling below tent like. The curved walls are stunning Magnolia tree wood, well cared for and unblemished.
Like Frank Lloyd Wright his friend and mentor, Parker's homes were designed to integrate into an environment, draw in the outside, and take advantge of a site's unique qualities. The Floyd House follows the curved contours of a steeply sloped wooded south facing hillside and every room looks into a valley of hardwoods contiguous to the University Arboretum. There are other Wright influences, among them: the public spaces are volumous and the private spaces more intimate, the home has a carport (enclosed on three sides), the home is very understated from the street, and great attention was placed on materials, detail and craftsmanship.
Shortly before his death in 1959 Frank Lloyd Wright recommended Parker as an American Institute of Architects (AIA) Fellow. Parker is the only architect Wright ever recommended. Alfred Browning Parker passed away in March of 2011 after having
completed over 6,000 commissions, predominantly residential homes in Florida where he had his practice and taught at the University of
Florida.
This event is free and open to all interested in seeing this unique home! An event not to be missed.
Questions about a2modern? Visit the a2modern website or contact modernists@a2modern.org.