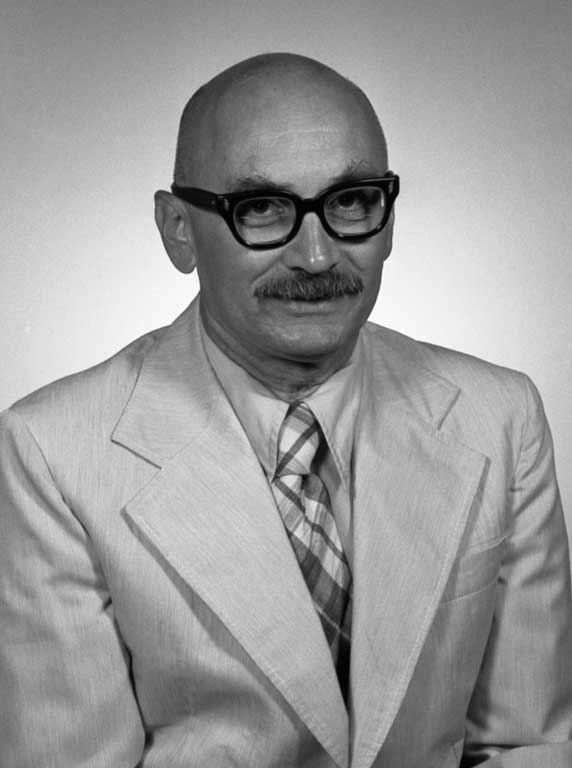 Tivadar Balogh, architect, was born December 16, 1926, in Detroit, Michigan, the son of Hungarian immigrants. Following his high school graduation in 1944, Balogh enlisted in the U.S. Navy and served in World War II (1945-1946), before enrolling at the University of Michigan on a track scholarship in 1946. While at Michigan, Balogh received the Harley, Ellington & Day architectural scholarship (1951) and an academic honor from the professional fraternity Tau Sigma Delta (1952). Balogh graduated with a degree from the College of Architecture in 1952, and served another tour in the Navy during the Korean War (1952-1954), prior to engaging in professional practice.
Balogh worked as an instructor at Michigan's College of Architecture and Design throughout most of his career. He taught at the university as a visiting lecturer (1956, 1963), instructor in the extension service (1964-1970), adjunct instructor (1972-1985), and adjunct professor (1985-1997). Balogh also taught graphic design development for two years at Schoolcraft College in Livonia, Michigan (1970-1971). During his tenure in the College of Architecture, Balogh taught classes in communication skills, visual studies, construction materials and methods, building and comprehensive design, and graphics, earning high regard from colleagues and students alike. In 1973, Balogh received the Sol King Award for Excellence in Teaching from the college.
Balogh began his professional architecture career as a draftsman for Detroit mechanical engineer Andrew F. Caughey (1946) and Detroit architect Earl Confer (1947-1948). From 1949 through 1952, Balogh was employed as a designer and draftsman for the Detroit firm of O'Dell, Hewlett & Luckenbach. Beginning in 1954, Balogh began work for fellow Michigan alumnus, and future dean of the College of Architecture, Robert Metcalf (1950), working as one of Metcalf's draftsmen through 1960. Between 1960 and 1961 Balogh worked as an architect and designer for the firms of Shreve, Walker, and Associates and W.B. Ford Design Associates, both of Detroit.
In 1961, Balogh began his own private practice, based in Plymouth, Michigan, doing modernist residential and commercial work. Balogh's practice was small, at times consisting of Balogh alone or Balogh assisted by two or three other draftsmen or architects. While Balogh often produced the mechanical and structural drawings on his own, he also worked with a number of consultants, including Robert M. Darvas and Associates, DiClementi & Siegal Engineering, Norman L. Dietrich Associates, and Construction Services Company. By the time of his retirement Balogh had completed approximately 150 residential, institutional, and commercial projects throughout Michigan, Illinois, and Arizona.
In addition to his teaching and professional work, Balogh committed himself to public and professional service. Balogh served on the Plymouth Township Planning Commission (1960-1966), and in 1980 designed the logo for the township's official seal. Balogh engaged in architectural service and research, as well, as a participant in the University of Michigan's Architecture Research Lab, a member of the Schoolcraft Community College Architectural Advisory Committee, architectural advisor for the Township of Canton Historical Commission, member of the Plymouth-Canton School District Architectural Program Advisory Committee, board member of the Michigan Society of Architects, and as treasurer (1965), vice-president (1966), and president (1967) of the Huron Valley chapter of the American Institute of Architects (AIA).
A talented artist and respected architect, Balogh was the recipient of numerous awards for his work including an Honorable Mention, with Robert C. Metcalf, for a youth center in the Porcelain Enamel Design Competition (1956); Honorable Mention, with Robert C. Metcalf and William A. Werner, for a house in the Morton Arboretum House Competition (1956); a Merit Award, in collaboration with the office of Robert C. Metcalf, from the 18th Annual National Conference on Church Architecture for the Church of the Good Shepherd (1958); two design awards from Progressive Architecture for the Balogh Residence (1957) and the Tennis and Swim Club of Plymouth, Michigan (1972); the Governor's Award for Excellence of Design in Michigan for the Mercy College of Detroit library addition (1977); a Citation of Merit from the American Plywood Association for the remodeling of Growth Works (1981); the Huron Valley AIA Lifetime Service Award (1998); and the AIA Michigan President's Award (1998), for outstanding contributions to the community and the profession.
Tivadar Balogh retired from the University of Michigan and private architectural practice in 1997. Balogh died on December 1, 2006.
(from History, Tivadar Balogh collection, Bentley Historical Library)
See also: