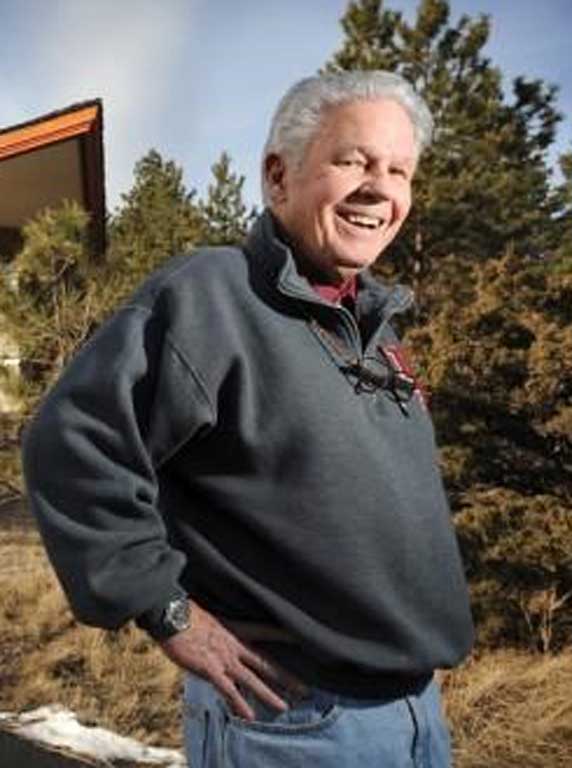 Robert Pond (1926-?)
Robert Pond lived in Ann Arbor for only a year and in that time built only one house, the Theo and Joanne Kabza home at 2417 Londonderry. But he is of special interest because of his close connection to Frank Lloyd Wright, under whom he trained at Taliesin, from 1950-54.
Pond met Wright in 1949 on a visit to Taliesin West in Arizona. He and his wife Ann were so impressed that they decided they'd like to join Wright's Fellowship. When Wright interviewed Pond, which was the only way to gain entrance, Pond admitted that he hadn't been to architecture school. Wright replied, "Good, I won't have to beat it out of you."
Pond had served in Marines during WWII, so his first year at Taliesin in Wisconsin was paid for by the G.I. Bill. When the government refused to renew the funding because Taliesin wasn't a conventional school, the Ponds managed to stay three more years until their money ran out.
After Pond left Taliesin, he continued his connection with Wright, checking on projects in Michigan, Minnesota, and Idaho, until Wright died in 1959. Pond came to Ann Arbor in 1955, to consult on the William and Mary Palmer house at 227 Orchard Hills, which Wright had designed in 1952. Mary Palmer never made any changes to her house without first asking "Mr. Wright," as she called him. A few years after the house was built the Palmers added a terrace off the living room, so that was most likely what Pond came to see about.
Pond recalled in a 2012 telephone interview that while he was living in Ann Arbor, Wright visited Ann Arbor and stayed at the Palmer house. The next day, Pond drove Wright to Detroit where he was to give a lecture at the Masonic Temple.
While in Ann Arbor, Pond found a job with George Brigham, who had lost his assistant Robert Metcalf when Metcalf started his own firm. In the same phone interview, Pond said "Brigham was the first person I worked for. He was a good man and did nice stuff." Brigham originally had the commission to design a house for the Kabzas. "He gave it to me [the job]. It was nice of him. He was too busy," recalled Pond.
The site on Londonderry was described in a 1976 Ann Arbor News article as "in a small woods near Ann Arbor." The exterior has pierced ceramic blocks, similar to what is found on the Palmer house. Although from the street it looks more linear than the Palmer House, according to the same article, the living room is in the shape of a hexagon with the fireplace as a point of interest, which is just like the Palmer house.
Pond left Ann Arbor when Wright sent him to oversee work at the Dorothy Turkel house in Detroit. Pond later went to work for Indiana University, where he became Associate University Architect and designed many of their campus buildings in a Frank Lloyd Wright style. He retired to Montana, where he built a home, the first he designed for himself.
Michigan Project List:
2417 Londonderry Road, Ann Arbor
4201 Clark Road, Ann Arbor
By Grace Shackman