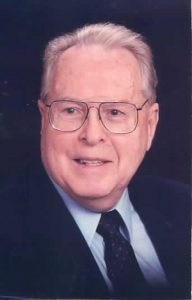 A talented art student and musician in Ishpeming high school in the UP, Keith Weiland entered the University of Michigan School of Architecture in 1946. He attended Ripon College and served in the Army signal corps; his job was maintaining telephone systems between Germany and France, and it was this travel that introduced him to great European buildings in Vienna and Salzburg and elsewhere, and along the way he learned photography. He remarked that "modern began at Michigan in 1946," and it must have been a heady time of change at the university. Young professors such as Edward Olenki, Joseph Albano, Theodore Larson, Walter Sanders and William Muschenheim were brought in by Dean Wells I. Bennett, and the Miesian influence soon permeated the school. As Keith Weiland quickly affirmed when asked about Mies van der Rohe: "Less is More."
Fresh out of Michigan in 1951, Keith Weiland moved to Kalamazoo to work for Louis Kingscott, who put him quickly through all the departments (planning, specifications, contracts, and so on) of this major Michigan firm. However, the plan to open an office in the UP, to be headed by Keith Weiland, fell through in an economic downturn. Keith Weiland returned to Detroit, working for Harley, Ellington and Day, and then at the Argonaut Building for General Motors, before coming out to Ann Arbor. He joined James Livingston, Douglas Tracy and Ted Smith. In the process of a job on North Campus involving a Fire Station training site, he was invited to join the firm of Charles W. Lane Associates in 1957. At the age of 32, he became a principal in the Lane firm, specializing in school design and construction. Charles W. Lane Associates were responsible for Ann Arbor's Huron High School, as well as school, commercial, office building and residential work across Michigan.
At the university, Keith Weiland belonged to the architects' fraternity, Alpha Rho Chi. The fraternity enabled a wide network of friendships and acquaintances, and for many years the southeastern Michigan firms like Smith, Hinchman & Grylls, Albert Kahn, Giffels, Eberle Smith, George D. Mason, Tarapata-MacMahon and even Kingscott were run by Archies. Keith Weiland was one of the founders of the Huron Valley Chapter of the American Institute of Architects, and he acted as its second president. There were five architectural firms in Ann Arbor in the 1960's, among them Charles Lane, Robert Metcalf and David Osler. At the time, the university forbade professors to practice architecture, but long-time professor George Brigham evaded this rule by sponsoring a research office in his home. Both Robert Metcalf and Charles Lane were students of George Brigham. At this time, also, Eero Saarinen in Bloomfield Hills, and Minoru Yamasaki in Troy, provided exciting environments for aspiring modernist architects. Keith Weiland was invited to join the Yamasaki firm but declined.
Keith Weiland's Mid-Century Modern houses include 2105 Hall Avenue, #3 Regents Court and #18 Regents Drive, and his own house at 2920 Devonshire. These houses fall into the classic MCM idiom with their clean lines, horizontal open plans and attention to site and light. His own house on Devonshire on two levels accommodated the family of six; it was designed for later conversion into a house and separate apartment on the lower level.
Keith Weiland took over Charles Lane Associates after Charles Lane retired and held it until 1973, turning it over to third principal, Alex W. Riebe, who moved it to Farmington.