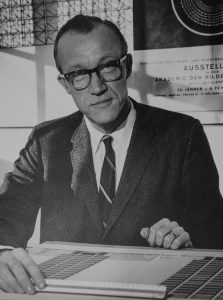 Joseph Albano (1906-1990) and Edward Olencki (1922-2002)
Joseph Albano and Edward Olencki worked as a team to design unique modern houses which show the influence, but are not copies, of the work of Mies van der Rohe, under whom both studied. Olencki earned his Master's degree in architecture at Illinois Institute of Technology (IIT). Albano already had his degree, having studied architecture at the Armour Institute, the forerunner of IIT, but enrolled in classes because he admired Mies' work. They met there and became life-long friends. Both grew up in Chicago, Olencki in a Polish neighborhood and Albano in a tough Italian one. Friends remember their Mutt and Jeff appearance, as Olencki was very tall and Albano short. A friend recalled "talking to them, moving my head up to look up to the stratospheric height of Ed, then switching my attention to Joe Albano sort of below the horizon."
When Mies opened his own firm, he asked both of them to join him. In fact, Olencki was the second employee. From 1943-48, they worked as a draftsmen and designers, figuring out the details of Mies' projects such as the IIT Library and Administration Building, the Farnsworth House, and Lake Shore Towers. They were often asked if they helped design Lafayette Park, the answer is that Mies didn't start working on it until 1959, after the two had left his employ. However, in later life, Olencki led tours there. Upon the recommendation of Mies, both Albano and Olencki joined the University of Michigan faculty. Albano joined the U-M in 1947 and Olencki the next year. Robert Albano, Joseph's son, still has his father's letter of recommendation.
Olencki and Albano were appreciated for teaching practical information, when most of the other professors dealt with theory. They taught construction materials and methods and comprehensive architectural design. Olencki also taught a hands-on furniture construction class in which he would show his students the basics of how to run a saw, sand the wood, and put it all together. At the time, he was the only architecture professor in "the Big 10" who offered this instruction.
In addition to teaching, they formed a private practice in Ann Arbor, Albano & Olencki, so they could keep doing the work they loved. Albano did the conceptual design work, figuring out the room arrangement, while Olencki worked on the detailing. "They were like brothers, they worked together seamlessly," recalls Tom Olencki, Olencki's son. Robert Albano remembers that his father kept a sketch pad by the side of his bed so he could jot down ideas if they occurred to him in the night. At first they worked in the attic of Albano's rental home on Catherine Street. Robert Albano recalls, "to access this they had to go through my bedroom to another room where the attic stairs were. It was always a mysterious thing when they disappeared into the ceiling." After Albano built his own home, they worked in his basement. Finally they were successful enough to rent an office in downtown Ann Arbor, 320 S. Main St, above what was then Fiegel's Men and Boys Wear.
The only separate work they did during the time of their partnership was when each built a home for themselves and their families: Albano at 1158 Pomona and Olencki at 1150 Mixtwood. The houses were similar, yet their footprints on the properties were different. The Albano house front was built perpendicular to the street, whereas the Olencki house front was built parallel to the street. The houses were just a block away from each other and their grown children remember a constant of back and forth between the two families.
Albano & Olencki clients' houses follow a similar design concept but each is carefully designed to meet the specific needs of the client. All have straight lines and use modern materials. Their own houses and most of the Ann Arbor houses are simple rectangles. All the Albano & Olencki houses have car ports, except Olencki's personal house, which has a garage. Their two masterpieces, the Eaton house and the Engel house, also have straight lines but are more like boxes arranged at different places.
Albano retired in 1971 and moved to San Diego. Olencki continued working independently and remained in Ann Arbor after he retired in 1987. In 2000 Olencki gave the U-M over 200 blueprints of Mies and Frank Lloyd Wright's work. A selection, including plans for some of Mies' most famous buildings, such as the Farnworth house and IIT's Crown Hall, amid lesser known ones, were displayed in the Taubman Gallery and celebrated with a special reception.
Albano & Olencki Buildings (All in Ann Arbor unless otherwise stated.)
1404 Beachwood, Debbie and Ronald Freedman, 1954.
2601 Heatherway, Leonard and Carrol Eaton, 1962. Leonard Eaton was a specialist on architectural history and a colleague of Albano and Olencki. The house they designed for him is considered their most Miesian. It consists of three brick boxes that fit on a long narrow pie-shaped lot, with walled off courtyards between each of the three bedrooms and one off the living room.
Once the basic plan was agreed on, the Eatons left for a trip to Europe putting their trust in Albano and Olencki. But while away, Leonard Eaton asked that Roman bricks be used rather than more common Chicago bricks. Since Roman bricks are longer and flatter, the dimensions of the original plan had to be totally recalculated, which meant some late nights to redo the plan before the work could commence. The revised plan also meant the house would be closer to the back of the lot line than allowed, which required a variance from the city's Zoning Board of Appeals. (Because of the drawn out complications resulting from this experience, Olencki eventually was appointed as chairman of the Building Board of Appeals.) When the Eatons returned, Albano met them at the airport and drove them to their new house. Tom Olencki remembers that "the house exceeded their expectations." In 1993, 30 years later, the Eatons hired Olencki (Albano had retired and moved away by then) to make an addition to the kitchen to accommodate their current lifestyle.
While in Europe, the Eatons had shopped at a furniture factory/store in a store in Copenhagen, Denmark to purchase modern furnishings for the house, using the measurements they'd brought with them. In 1966, when the Olenckis were on sabbatical and in Copenhagen, they too went to the same facility. When the proprietor heard they were from Ann Arbor he told them he had some other Ann Arbor visitors who were furnishing a new house. The proprietor thought it odd that every room had cross ventilation with its own courtyard. Little did he know he was speaking with the architect of the house.
3087 Overridge, Edward and Ruth Engel, 1963: An equally unique home, located on top of a hill, it is comprised of three white boxes juxtaposed to each other. These boxes form three large rectangular open and airy spaces — living room, kitchen/dining room, and bedrooms. The exterior is designed so the house is private from the street, but with views of the outside gardens from numerous vantage points. When the Engels moved from Ann Arbor, they made sure to sell the house to people who would appreciate it.
602 Oswego, Sam and Molly Eldersveld, 1968. Remodeled and rebuilt after a devastating fire.
28 E. Pelican St., Isle of Capri, Florida for Molly McGee, built on stilts to withstand severe hurricanes.
Big City Bakery, 500 Miller Road, store façade.
Arcure Motors, Mercedes Benz dealership, 617 Detroit Street, store façade.
They also did larger buildings in the Detroit area including the Workmen's Circle Educational Center and the Campbell Construction Company.
Olencki
1150 Mixtwood, Edward and Irene Olencki, 1954-5. The site is on a hill, so Olencki first bulldozed a spot about half way up to create a terrace. Right after the cement had been poured, the Olenckis, already the parents of a toddler, learned they were going to have twins. It was obvious they needed a larger house; nevertheless, they kept with the original design. Minimum furniture was now needed to make the house feel less crowded, so Olencki created many built-in closets and cabinets. At a time before air conditioning, the house was cooled by designing the common area walls to not go all the way to the ceiling. The high windows opened at the joists, creating transom windows, allowing the air flow coming down the hill to ventilate the common area of the house.
The driveway initially went straight up the hill to an attached garage. Two years later, out of necessity to create a larger house, Olencki incorporated the garage and breezeway into part of the living area and built a garage a little further down toward the street so the incline was not as steep.
Church Architecture
Olencki had special interest in church architecture. His IIT master's thesis in 1947 was a church design that included having the priest face the congregation, a change which predated the conclusions of the 1964 Second Vatican Council by seventeen years. During his 1960 sabbatical Olencki studied church design with Rudolf Schwarz, a German architect who was the major force in reconstructing Cologne after World War II, including several churches. Locally Olencki often gave talks on the history of church architecture to community groups such as service clubs and church groups.
Church commissions
St. Thomas Catholic Church, remodeling in 1964 and 1975.
St. Mary's Student Chapel in 1972. A thank you note from St. Mary's states, "The transformation is startling. The new lighting, to pick out just one design element, adds a new dimension to the room."
Divine Savior Church, Westland, Michigan, in 1976.
By Grace Shackman