Open House at Hammett Designed Home
a2modern is hosting an open house on Sunday, July 21st at the home of Margaret Leary and Russ Serbay. Their home is at 1056 Newport Road just north of Miller Avenue.
When Ralph Hammett designed the Newport house in 1942, there were very few Mid-Century Modern houses in town to model on and World War II was in progress so it was hard to get materials, as most were needed for the war effort. However, he was well versed in MCM principles and did a wonderful job of siting the house on the two and a half acre former farm land and creating a home with large windows well placed for maximum sunlight and built-in furniture to make it look less cluttered. He was able to use recycled materials, including a support beam and other wood from the First Methodist Church who were replacing their 1866 church with a new one.
The next year Hammett joined the Monument Men, saving Europe's art treasures from war devastation. After the war he resumed teaching at U-M and became a nationally recognized expert on modern church architecture, spending his sabbatical year in Europe studying their modern churches. He built three churches in Ann Arbor – Lord of Light Lutheran Church, Northside Community Church, and Trinity Lutheran, of which he was a member. He designed additions for St. Andrews, first Congregational, and also for the City Club (then the Woman's City Club).
Hammett was also interested in historic architecture. When he came to town he and his family lived in the 1842 Guy Beckley house, which he spent years restoring. He oversaw the restoration of Kempf House after the city bought it in the 1950s. Meanwhile, in 1957 he built an ultra-modern house for his family at 485 Riverview.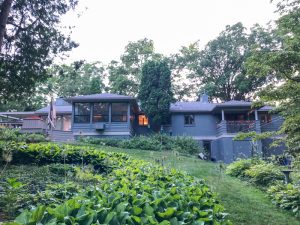 The house was built by Dr. Ruth Cecelia Wanstrom. She retired in 1958 and sold the house to Alfred H. Stockard, head of the UM Biological Station on Douglas Lake. Margaret Leary bought the house from Stockard's widow. They have kept or restored the original features including bathroom tile, wooden kitchen cabinets, and marble window sills. They enlisted the help of Mary Jane Williamson, interior designer for Gunner Birkerts, who Margaret, now retired as head of the Law Library, met when she was working on the Birkert-designed Law School addition, to help with paint colors and furniture selection. Russ, an architect with Hobbs and Black, designed an addition over the garage that creates a luxurious master bedroom and bathroom.
Tickets can be purchased here. Parking is on the opposite side of the street. After the inside tour, people are welcome to wander in the gardens around the house.