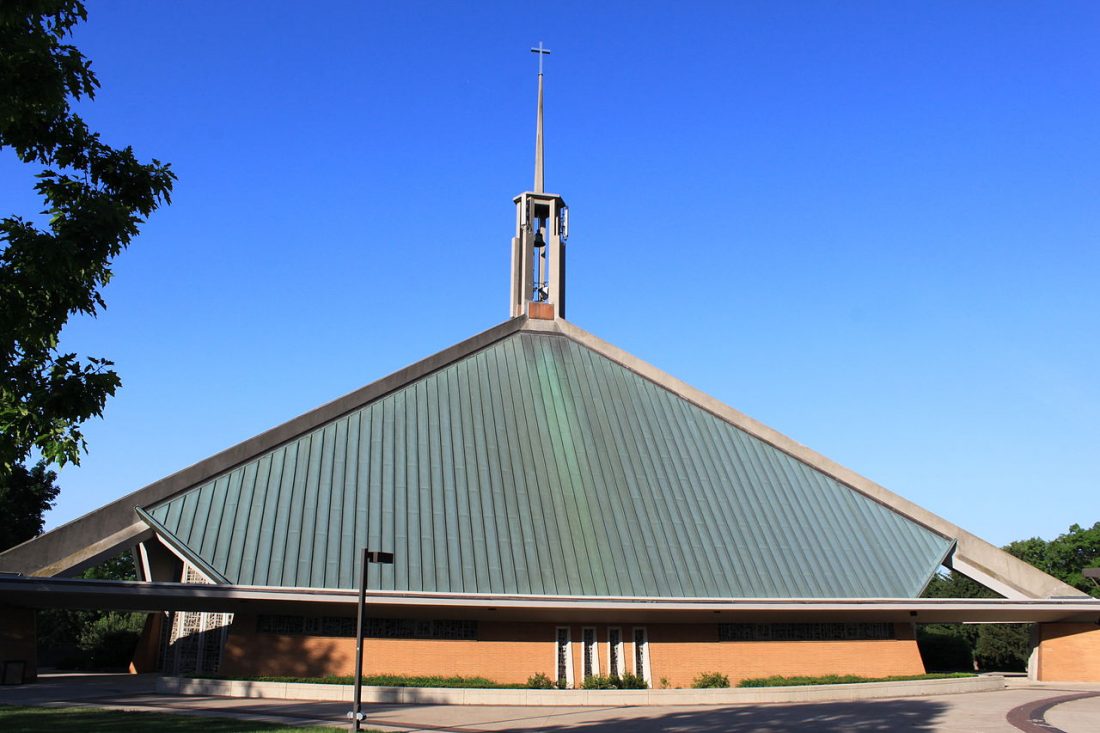 Concordia University Campus Tour
On Sunday, July 8th, a2modern and Concordia University of Ann Arbor (CCAA) will offer a tour of the CCAA campus flanking Geddes Road on the banks of the Huron River near US-23.  The tour will feature  several midcentury modern (MCM) structures including a classroom / administrative building, the library, and the Chapel of the Holy Trinity, a midcentury gem reminiscent of Eero Saarinen's 1964 North Christian Church in Columbus, IN.  Tour guests will also have an opportunity to meet and mingle in the Earhart Manor that now serves as CCAA's administrative center.
CCAA was founded in 1962 as Concordia Lutheran Junior College on a 187 acre site on the grounds of the former Earhart family estatein NE Ann Arbor.  CCAA commissioned architect Vincent G. Kling and his Philadelphia, PA firm to design the campus buildings.  Kling, who studied at Cornell and MIT and had worked for Skidmore, Owings & Merrill, headed what became the largest architectural practice in Pennsylvania in the 1960s and '70s.  He was an AIA Fellow and received multiple national and local AIA awards.  He is best known for his large Philadelphia projects including the multi-building Penn Center and adjacent Love Park, the Annenberg Center for the Performing Arts, Lankenau Hospital and the US Mint, but he also designed several MCM residences in the area.
Concordia was dedicated and opened to students in the fall of 1963.  Campus buildings clearly exhibit a midcentury modern design aesthetic and MCM features, including shed-style pre-cast concrete roofs, simple unadorned materials, and large windows connecting the inside to the exterior.  They contrast nicely with the Earhart Manor (designed by Detroit architects Smith, Hinchman, and Grylls, architects for many U of M buildings) and its classic but simple limestone edifice and elegant details like its slate roof, copper eaves and Pewabic ceramic fountain and bathroom tile.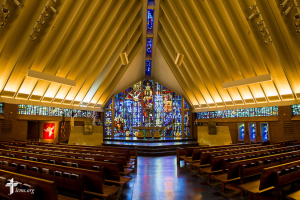 The Chapel of the Holy Trinity, a gift of Michigan Lutheran church congregations, was designed with three sides so that its tall spire would cast its shadow over each of the academic buildings, reminding students, faculty and staff of the college's primary purpose.  It was completed in 1964.  The chapel features multiple 'faceted glass' windows executed by the French artist Gabriel Loire; Barbara Krueger, a specialist on stained glass, will be there to answer questions about them. We hope you can join us on our tour of this notable MCM campus in Ann Arbor!  Tickets can be purchased here.