Thornoaks Walking Tour
Sorry! This event is sold out.
On June 10th a2modern will be hosting a walking tour of the Thornoaks neighborhood. The tour will include several interior visits.  Thornoaks is an unusually intact group of 32 mid-century modern homes, recently designated as an historic district.  Docent led tours will start at 1 p.m. and 2:30 p.m. The entire tour is 0.6 miles long.
Tickets to the event can be purchased here.
A small enclave of 32 houses on Thornoaks Drive and Huron River Service Drive, it's located off East Huron Drive just before the U.S. 23 underpass.  On April 18 the Washtenaw County Board of Commissioners voted approval of a request by the residents to designate it as an historic district thus protecting it from demolition or unfortunate alterations.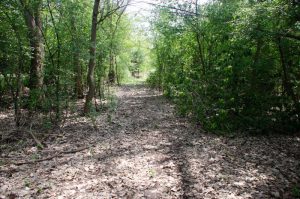 Thornoaks was developed in 1957-1961 by architect James Livingston and builder E. E. Kurtz.  They carefully laid out the lots to take advantage of views of the Huron River, South Pond, or the woods.  As the parcels were sold, Livingston and Kurtz reviewed the site plans, as the incorporation document states, for "materials, harmony of external design with external structure… placement of walls or fences… and to the location with respect to topography."
Livingston was a well- respected local architect (1922-1975).  Bob Chance, who worked with Livingston at the beginning of his career noted, "All of Livingston's houses were contemporary, with lots of daylight.  He did nothing old-fashioned, he wouldn't waste his time."  Livingston is best known as the designer of Lurie Terrace.  Readers may remember the cave-like Kales Water Fall, later a Chinese restaurant, and now torn down, which Livingston designed.  Other work included the Bell Tower Hotel, Weber's Restaurant and Hotel (where the idea of a pool inside an atrium with hotel rooms looking down on it may have been his invention), Lawton School, apartments including Maynard House and one on Pear Street, as well as many private homes.
It is known that Livingston was responsible for at least seven Thornoaks houses, but he's probably the architect of quite a few more, as there are many where the architect is unknown that look like his work.  When Livingston was diagnosed with terminal cancer in 1975, he immediately closed his office and went to Florida to spend his remaining time.  The architects working for him took plans for buildings they were involved in, but it is believed the rest of his files were destroyed.
Identified Livingston homes include one he built for himself at 4099 E Huron River Service Drive, now owned by Kristine Bolhuis, the president of the Thornoaks Neighborhood Association, and her husband John Holkeboer, which is where the tour will start.
Livingston was also the local agent for Techbuilt homes and there are several  homes  in the neighborhood that fit the description.  Techbuilts are considered among the best of the modular homes of that era.  Boston area architect Carl Koch noticed that in most homes the attic and basement were the least used, so developed a module home that was just that, a basement halfway out of the ground and an attic on top of it, so both floors were very usable.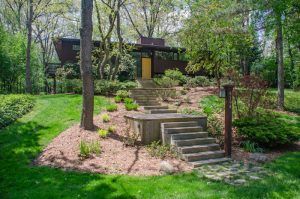 Another modular house in Thornoaks is a Deck house developed by another Boston-area architect.  Other local modern architects designing homes in the neighborhood include Ted Smith and Donald Van Curler.