Robert C. Metcalf Obituary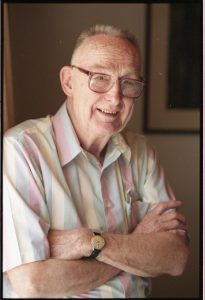 We were deeply saddened to learn that Robert C. Metcalf passed away on January 3, 2017 at the age of 93.
It is impossible for us to overstate Bob's contributions to Ann Arbor's rich heritage and collection of mid-century modern architecture and to A2Modern. In addition to his private practice consisting of around 150 projects, Bob was a professor at the Taubman College of Architecture at the University of Michigan and its long-serving Dean.
Along with his contemporary David Osler and George B. Brigham, with whom he apprenticed, his work forms the core of that Ann Arbor's modern design legacy. We were thrilled when their work received recognition in the University of Michigan Art Museum's "Three Architects" exhibit in 2014
A2 Modern is indebted to Bob for the many times he opened up the home that he and his wife Bettie built in the early 1950s and which is featured on the cover of our Ann Arbor Hills map. He was always gracious in hosting tours of his house and talks about his work. He helped us as we were identifying mid-century modern houses and their architects for our survey. We were honored whenever he could attend one of our house tours. We also know that many of those who own his homes have experienced that same honor in having the chance to talk with him.
On a personal note, my wife Nancy and I had the pleasure of being Bob's client from 2007 through 2009. Nancy asked if he would redesign the previously remodeled entryway to our Brigham designed house. We were unsure whether he would take the project. He told us that he prepared the drawings for the house when he was an apprentice for Brigham and had not been inside it since 1951. Yet, he remembered specific details of how Brigham's design developed as they spent more time with the client. We were thrilled when after walking through the house and listening to our goals Bob said that he would take the job because "George [Brigham] would want me to do it."
During our project we learned many things about Bob and his work, which we greatly appreciated. He had a deep memory and liked to talk with us about his projects. Each one posed the challenges to him of balancing his client's interests and needs with his ideas for the design and function of the home. We learned how his work was influenced by things such as a trip he took to Japan, his observation of the work of his contemporaries in Ann Arbor, and how each project could be a learning experience for him.
We also learned about how he immersed himself into his projects. He was extremely detailed, including with respect to other functional issues with the house. We were surprised when he told us the first order of business was to redesign our roof to address certain drainage problems he had noted. Only when that was completed could we talk about the design of our entrance.
He told us that the first order of business each day was to go to the job site and check on its progress. Even at the age of 84 he made sure he did the same with our project. When our roof was being reconstructed he climbed ladders to take a look. When concrete walls were being formed he was there observing. He continued to come to our house every day until our project was completely finished.
A2 Modern is grateful for the legacy that Bob and his contemporaries have left to Ann Arbor.   We are dedicated to maintaining the legacy and enhancing the appreciation of the extensive collection of mid-century modern architecture in Ann Arbor, and we plan to have continued tours of other Metcalf designed houses in Ann Arbor.
We also encourage homeowners and anyone who is interested in his work to read about him here on our website or delve into his archives located at the University of Michigan's Bentley Historical Library.
The Taubman College of Architecture at the University of Michigan has also issued a memorial tribute.
Dave Deromedi
A2 Modern