Wells Bennett / Barbara Bergman Open House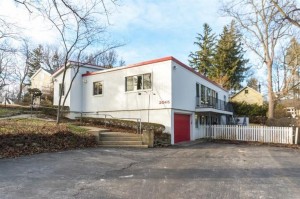 Saturday, May 14th, at 2 PM, 3 PM and 4 PM
This is the first modern home that Wells Ira Bennett designed, although at that time, 1953, he'd designed almost thirty houses in more traditional styles. He is best remembered for hiring a group of stellar modern architects while dean from 1938 to 1957 of U-M's College of Architecture.
Bennett arrived at U-M in 1912 as an instructor and rose to leadership through his early interest in low-cost housing and city planning. As a practicing architect, Bennett was active after 1921, developing a considerable residential practice, mainly with faculty clients.  His first project was a home for himself and his family at 500 Highland. He kept busy in the 1920s and early 1930s, designing homes in the styles of the time, mainly Tudor and Colonial Revivals.  He stopped during the Depression, when few could afford to build, and then became too busy in his years as dean.
Taking over the deanship from Emil Lorch, he followed Lorch's example of encouraging new ideas and modern styles.  He invited many of leading architects of the day to participate in seminars and conferences.  After WWII, he began hiring some of the stars of  Modernism, luring both Walter Sanders and William Muschenheim from successful practices in New York City, and Edward Olencki and Joe Albano, both of whom studied under and then worked with Mies van der Rohe, from Chicago.  He also hired talented U-M grads such as Robert Metcalf and Tivadar Balogh.  These hires not only brought prestige to the U-M architecture school but built many fine examples of modern architecture in the Ann Arbor area.
In 1953, as Bennett was nearing retirement, and after a long hiatus, he designed a house, this one again for himself.  He sited it on the front lawn of his first house, on land that sloped down to Geddes.  Although this was his first modern house, he had by then seen many examples from the rest of the faculty and of course had a dream group of colleagues to advise him if he had questions. Bennett died in 1966.
Barbara and Rueben Bergman bought the house in 1980 from Sybil Bennett's estate and moved in with their three sons. They made the house their own –enlarging windows, reconstructing the side balcony so it would be safe, enlarging and improving the master bathroom, making a closet out of a hallway for more storage, while still keeping the totally modern feel and in fact improving it with more natural light pouring in. The most interesting change is a small room with a tower added to what was basically a galley kitchen.  Designed by Janet Attarian, it not only makes the interior feel more roomy, but gives the outside of the house more pizazz.
For tickets go to a2modern.myevents.com
Grace Shackman and Jeffrey Welch.
Photo courtesy of Carolyn Lepard