David W. Osler obituary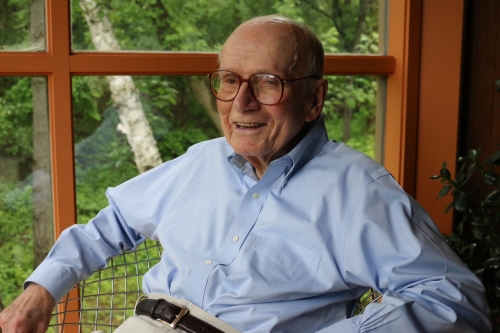 David Osler, David William 1/9/1921 – 9/8/2014 David W.Osler of Ann Arbor MI, a prominent architect, died peacefully at 1:00 pm, September 8, surrounded by his family. Born and raise in Ann Arbor, he spent most of his childhood at the family home on Glazier Way. He graduated from University High School in 1938 where he met Connie Lorch, the young lady who would become his wife, for sixty-eight years this July. He attended the University of Michigan, studying design and illustration, graduating in 1942, with the goal of becoming a commercial artist. He was a three time letter-winner in golf and was part of a Big Ten championship golf team. Following his time at Michigan, Osler enlisted in the Navy and served on the USS Thomas Jefferson, an assault transport ship. He commanded 5 landing craft, transporting troops of the 116th regiment, 29th division during the first wave of the assault on Omaha Beach, D-Day 70 years ago. After returning from WWII, he decided a career in architecture could fulfill his need for creative and artistic expression. He founded David W. Osler Associates in 1958, housing the firm in the historic Washtenaw Light & Power sub-station (1902) at 916 Fuller Rd., Ann Arbor, after an extensive renovation.
Over the course of a 50 year career Osler compiled a diverse portfolio of building types including domestic, institutional, commercial, and civic commissions. The firm won 22 honor awards and in 2005, won the architectural Firm Award from the American Institute of Architects, (AIA) Michigan. He was a finalist out of 1,420 entries in the design competition for the Vietnam War Memorial in Washington D.C. In 1996 Osler was awarded the Michigan Gold Medal, the highest honor of the AIA. He was elevated to the College of Fellows of the AIA in 1981, a lifetime honor bestowed for design excellence and contributions to the profession. He served as a juror and adjunct professor for the Taubman College of Architecture & Urban Planning at the University of Michigan. He also served the American Institute of Architects as president of the Huron Valley chapter, secretary to the state organization and for three years, as a member of the National Committee on Design in Washington D.C. Additionally, he was a board member of the Washtenaw Historical Commission and spent nine years as a board member of the Washtenaw Metropolitan Planning Commission.
From December of 2013 through March of 2014, Osler's work was featured in an exhibit at the University of Michigan Museum of Art, entitled, "Three Michigan Architects: Part 1 – David Osler," co-curated by Joe Rosa, Director, UMMA, and Nancy Bartlett, Head of the University Archives. Affiliations include the Ann Arbor Rotary Club as president in 1989, the graduate letter-winners "M" Club, as president in 1968, Ann Arbor Golf & Outing Club, the Vice President's Club (VP's) of Ann Arbor. Osler retired in 2010. The Bentley Historical Library wrote in its biography of David Osler, "He leaves a legacy of design elegance and simplicity that has inspired his followers with his commitment to a high quality of community life through architecture." Osler and his wife Connie have three children, Molly, Robin, and Peter, all of whom have chosen careers in design. He is survived by his wife Connie (Constance), daughters Molly Osler of Ann Arbor, Robin Osler (Bruce Matthews) of New York, NY, Peter (Betsy Williams), of Ann Arbor, grandchildren Zane and Wren, sister Priscilla O. Cook (Mrs. William) of Bellevue, WA and two nieces, Tandy & Carrie and nephew Wyatt. Burial will be private at Botsford Cemetery. A celebration of his life will be held Saturday, October 18, at 1 pm, First Presbyterian Church, Ann Arbor. Photo credited to the Detroit News
– See more at: http://obits.mlive.com/obituaries/annarbor/obituary.aspx?n=david-william-osler&pid=172493057#sthash.cfmuHjxB.dpuf
The family has asked that memorial gifts go to Hospice of Michigan or a2modern. To make a donation in David Osler's memory to a2modern, please send a check to a2modern, p.o. 7631, ann arbor, michigan 48107. The mission of a2modern is to raise the awareness and appreciation of modern architecture and design. Questions about a2modern, email modernists@a2modern.org.