'Michigan ModernTM: Design that Shaped America' Symposium and Exhibition Set to Open in Grand Rapids Venues This Summer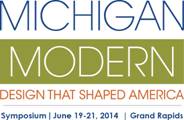 'Michigan ModernTM: Design that Shaped America' Symposium and Exhibition Set to Open in Grand Rapids Venues This Summer
Designer Todd Oldham will Offer Keynote at Symposium that Hails Michigan's Role in American Modernism
LANSING, Mich. – World renowned designer Todd Oldham will deliver the keynote address as the "Michigan ModernTM: Design that Shaped America" symposium moves from Cranbrook Educational Community to Grand Rapids this summer.
Oldham, best known for his fashion lines, interior design, books and television appearances, will help kick off the symposium that focuses on Michigan's central role in the development of Modernism, from June 19-21, at Kendall College of Art and Design, Ferris State University (KCAD). An exhibition of the same title opens at the Grand Rapids Art Museum on May 18 and runs through August 24.
"We have moved the discussion to West Michigan where companies like Herman Miller and Steelcase created products that influenced how people lived and how they worked in offices around the world," said State Historic Preservation Officer Brian Conway. "A recreation component has been added to play off West Michigan's resort industry. For example, the fiberglass boat industry originated in Holland and led the construction of pleasure boats that were popular and affordable."
Oldham recently published a 672-page, 15-pound book that pays homage to textile designer Alexander Girard, one of the most prolific and versatile mid-20th century designers. His work spanned many disciplines, including textile design, graphic design, typography, illustration, furniture design, interior design, product design, exhibit design and architecture. Among Girard's many accomplishments were his bold, colorful and iconic textile designs for Herman Miller from 1952-1975.
Michigan innovators—architects, designers, manufacturers and education institutions— have influenced design throughout the country and internationally.
FOR IMMEDIATE RELEASE
"What began as the design of buildings, automobiles and furniture became synonymous with American life and further influenced the design of everything from boats to pop-up tents," Conway said.
Among the other symposium highlights:
• Debbie Millman, host of Design Matters, will interview Jim Miller Melberg, designer of sculptural play forms for playgrounds during the 1950s and 1960s.
• Emily Bills, managing director of the Shulman Institute, will discuss Michigan's influence on California Modernism.
• Donald Albrecht of the Museum of the City of New York will discuss Norman Bel Geddes, "the man who streamlined America."
• Mira Nakashima will discuss the contributions of her father George Nakashima, including his Origins line, designed for the Widdicomb Furniture Company.
• Marilyn Moss will discuss the work of fabric artist Bill Moss, creator of the modern pop- up tent.
The symposium will also offer tours of modern structures like the Marcel Breuer-designed St. Francis de Sales Catholic Church in Norton Shores, and a rare opportunity to visit Herman Miller design and manufacturing facilities, including the factory where the wood components for the iconic Eames Lounge Chair and Ottoman are made. A tour of the Frank Lloyd Wright- designed Meyer May House in Grand Rapids is also among the seven tours offered.
The State Historic Preservation Office (SHPO) is hosting the symposium as part of its Michigan Modern project, which began in 2008. The symposium is held in partnership with Kendall College of Art and Design and the Grand Rapids Art Museum (GRAM).
"KCAD is pleased to be part of an event that promotes Michigan's central role in the development of Modernism, and we look forward to welcoming people to our campus who share our passion for design," said David Rosen, president of Kendall College of Art and Design. "Michigan's design industry has never waned. It continues to innovate and have influence well beyond our borders."
An exhibition of the same title opens at the GRAM on May 18 and runs through August 24.This exhibition celebrates the rich, broad impact of Michigan's furniture and industrial designers and architects, focusing on the 1930s through the 1970s.
"GRAM is thrilled to be sharing this nationally recognized exhibition with the West Michigan audience, in part because it highlights the innovation and creativity of our region, and beyond that, mid-century modern connects with baby-boomers who grew up in that era and is influential for younger generations finding their own styles," said Dana Friis-Hansen, director and CEO. "The exhibition explores a range of design areas, including industry, institutions, public housing, living spaces, work spaces, auto styling and recreation. At GRAM we're excited to highlight design for outdoors, including innovative tents and West Michigan advances in boat design."
Complimentary exhibitions will also run at KCAD and Urban Institute for Contemporary Arts (UICA).
The KCAD exhibition will showcase the iconic graphic design work of West Michigan designers and companies such as Herman Miller, Nelson and Girard, from 1948-1970. It will be on view from June 16-July 18 in The Fed Galleries in the Woodbridge N. Ferris building, 17 Pearl St. NW.
Mid-Century Alchemy, at UICA from June 6-August 17, focuses on the influence of the mid-century era on contemporary artists. The exhibition will feature custom wallpaper from the Detroit Wallpaper Company and feature items with a relationship to the home environment, including design objects from Ryan Pieper, Garrett Brooks, Matt Loeks, Crystal Forsma, and Anthony Carpenter.
For symposium details and to register, visit michiganmodern.org. For information about the exhibition, visit artmuseumgr.org.
The State Historic Preservation Office (SHPO) is financed in part by a grant from the National Park Service, Department of Interior. The opinions expressed herein do not necessarily reflect those of the Department of the Interior. The Department of the Interior prohibits discrimination on its federally funded assistance programs. If you believe you've been discriminated against please contact the Office of Equal Opportunity, National Park Service, 1849 C. St. NW, Washington DC 20240.
The State Historic Preservation Office is part of the Michigan State Housing Development Authority (MSHDA), which provides financial and technical assistance through public and private partnerships to create and preserve decent, affordable housing for low- and moderate-income residents and to engage in community economic development activities to revitalize urban and rural communities.
*MSHDA's loans and operating expenses are financed through the sale of tax-exempt and taxable bonds as well as notes to private investors, not from state tax revenues. Proceeds are loaned at below-market interest rates to developers of rental housing, and help fund mortgages and home improvement loans. MSHDA also administers several federal housing programs. For more information, visit www.michigan.gov/mshda.