Exhibit now open! Three Michigan Architects: Part 2—Robert Metcalf
Three Michigan Architects: Part 2—Robert Metcalf
April 5–July 13, 2014
University of Michigan Museum of Art
525 S. State Street, Ann Arbor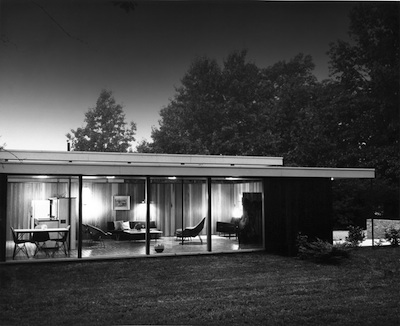 Robert Metcalf's domestic and commercial buildings represent some of the most important and recognizable modern architecture in Michigan. Born in 1923, Metcalf is a native of Ohio. He began his education at the University of Michigan in 1941 but his studies were halted during World War II. After serving in Europe, Metcalf returned to Ann Arbor and finished his degree in 1950. Upon graduation, he worked as an apprentice to George B. Brigham and began teaching Architecture at the University of Michigan. Metcalf began his own practice in 1953 and completed over 120 projects Ann Arbor and the Detroit Metro area.
This exhibition presents 13 domestic projects that span his six-decade-long career from 1953-2008, highlighting his straightforward design aesthetic, featuring many of his iconic flat-roofed houses. Each project selected exemplifies Metcalf's mid-century modern architectural vocabulary that results in functional, minimalist spaces for living.
Three Michigan Architects: Part 2–Metcalf is the second in a series of three consecutive exhibitions, with subsequent presentation of domestic work by George Brigham (July 19–October 12, 2014). Part 1 of the series presented the work of David Osler (December 21, 2013–March 30, 2014). The series will culminate in Fall 2014 with a symposium, as well as the publication of Three Michigan Architects: Osler, Metcalf, and Brigham—both of which will explore the importance of this circle of Ann Arbor-based architects, situating their regional body of domestic work into the larger context of modern architecture in the U.S. that developed on the East Coast and West Coast from the 1930s–1980s.
This exhibition is part of the U-M Collections Collaborations series, which showcases the renowned and diverse collections of the University of Michigan. This series inaugurates UMMA's collaboration with the Bentley Historical Library, and is generously supported by the Andrew W. Mellon Foundation. Lead support for Three Michigan Architects is provided by the University of Michigan Office of the Vice President for Research.
Image source: Robert C. Metcalf Collection, Bentley Historical Library, University of Michigan.