People of Palmer Park Architectural Tour October 5th
Palmer Park Architectural Tour,
Saturday, October 5, 11 am – 3 pm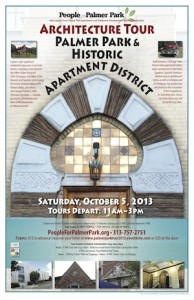 Explore first-hand the architectural grandeur of the historic Palmer Park apartment district on SATURDAY, OCTOBER 5. Witness the progression of this unique enclave's dramatic revitalization on this annual guided walking tour.
Tours leave Detroit Unity Temple in Palmer Park (17505 2nd Avenue Detroit, MI 48203) every 15 minutes from 11AM to 3PM. Parking will be available near check-in. Proceeds will benefit the restoration of Palmer Park, a 296 acre city park located in northwest Detroit between McNichols and Seven Mile Road, and just west of Woodward Avenue.
People for Palmer Park's guided walking tour will lead you through an area that showcases some of Detroit's best architects at different stages of their careers and their interpretations of differing popular styles. You will find the only authenticated work of some architects in this district. Built between 1924 and 1964, the apartment buildings reflect exotic architecture in the Egyptian, Spanish, Venetian, Moorish, Tudor, Mediterranean, Art Moderne, and Georgian styles.Few neighborhoods boast this kind of magnificent diversity. This annual tour shares the undergoing dramatic revitalization of this area with newly renovated buildings being added to the tour each year.
This year's tour-goers will experience structures built in the 20s, 40s, 50s, and 60s. Seven building interiors are included on the tour, including the newly renovated Palmer Lodge lobby. Our docents are encouraged to dress in period clothing reflecting the building's era.
The park's 1880's Log Cabin, the only surviving log cabin in city, will be open for the tour. Before or after your tour visit the 1880s Log Cabin in Palmer Park, and enjoy Segway tours of the historic trails on a first-come, first-served basis from noon to 3PM (for tour-goers only) experience a Segway tour of the historic trails, enjoy some live music and a sampling of classic cars, and partake of some delicious local food by Food Lab vendors.
At the Cabin:
Noon – 5 PM: Tour the Log Cabin
Delicious local food from Food Lab by the Cabin
1 – 3 PM: Live music from Behind the Times
Noon – 3 PM by Cabin: Ride on Segways
Noon – 4 PM: Classic Cars on Display
BUY ADVANCED TOUR TICKETS to secure your departure time – $15 in advance and $20 at the door. Tour booklet is included in the ticket price, as well as a ticket to ride the Segway in Palmer Park.