Alden Dow's architectural legacy in Ann Arbor, October 13th, 2013
a2modern celebrates modern architecture and design on Sunday, October 13, 2013 with a discussion of Alden Dow's architectural legacy in Michigan including his work in Ann Arbor.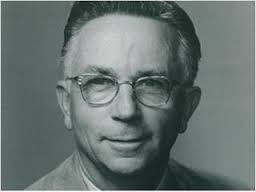 Craig McDonald, Director of the Alden Dow Home and Studio in Midland, MI will provide an overview of Dow's work including those in Ann Arbor as well as on the University of Michigan Campus. Following the presentation will be a tour of Dow's Morris House (1965) on Regent Drive and a door prize give-away.
Alden Dow's first Ann Arbor residential commission, in 1932, was designed for his sister Margaret and her husband, U-M physician Harry Towsley in Ann Arbor Hills. Over the next thirty-six years, Dow designed seventeen more Ann Arbor buildings; by the 1960s, the high regard for his work helped him land the administrative buildings contracts for both the city of Ann Arbor and the U-M: the Larcom Municipal Building (1961) and the Fleming Administration Building (1964) respectively.
Grace Shackman, a2modern Historian, interviewed the original owners (in 1998) of the private residence featured on the tour – the Morris House. In the early 1960s, Joe Morris, on the advice of Harry Towsley, wrote Dow to ask if he would be interested in designing a home for the Morris family. Dow responded by inviting Morris to Midland for lunch. The Morrises waited two years before Dow had time to work on their house.
"Joe Morris called the home 'magnificent simplicity.' This tour offers a rare inside look at an Ann Arbor Dow Home with many of its features still intact." explained Shackman. "A home's original features contribute to its authenticity and offers a fantastic opportunity to view a mid-century modern Dow gem right here in Ann Arbor," she said.
Logistics:
Space is limited for this event on the architectural legacy of Alden Dow. Proceeds from ticket sales will be used for the development of new a2modern tours and programming for 2014.
Location: The event will be at the Dr. and Mrs. Joseph Morris residence designed by Alden Dow. The residence is located at 7 Regent Drive, Ann Arbor.
Cost: $25.00/person
Event time: 2:30 p.m. to 5:00 p.m.
The event will begin at 2:30 p.m. on October 13th and the lecture will start at approximately 3:15 p.m.
Parking: Parking is limited on Regent Drive, therefore, we ask that you park on adjacent streets and walk to the event.
We will be serving light refreshments and there will be a door prize!
Questions about this event? E-mail modernists@a2modern.org