a2modern gives tour for Michigan Modern Symposium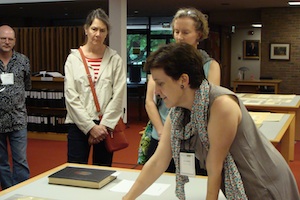 [Nancy Bartlett, archivist, speaks to the Michigan Modern group June 16th in the reading room of the Bentley Historical Library, U-M]
In conjunction with the Design that Shaped America Symposium, a2modern gave a day-long tour on June 16th starting at the Bentley Historical Library and ending at the Frank Lloyd Wright Palmer House. Many thanks to several that helped on the tour (Nancy Bartlett, Anthony Timek, Grace Shackman, Nancy Deromedi, Juliana Cerra, Gary and Sue Cox); to the Bentley Library; and to the homeowners that opened their homes: Bob Metcalf, Glenn Watkins, Mr. and Mrs. Richard Daane and Mr. and Mrs. Jeffrey Cox. We also would like to thank Mr. and Mrs. David Osler and Molly Osler for being at the Osler designed home to provide personal insight.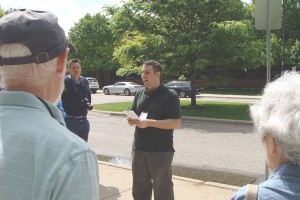 [Anthony leading tour of Saarinen's North Campus plan June 16th, 2013 as part of the Michigan Modern Symposium]
We had a great day and met enthusiasts from throughout the country including Tyler Merkel who is raising the awareness of West Michigan's Modern Architecture and Design. See his blog Mid-Century Michigan.