Frank Lloyd Wright at Twilight: A Tour of the Goetsch-Winkler House
Frank Lloyd Wright at Twilight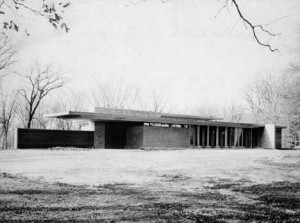 Thursday, July 18, 2013
A rare chance to visit the Wright-designed Goetsch-Winckler House in Okemos
fundraiser for the Michigan State University Museum, the science and culture museum at MSU
in conjunction with the special exhibit, "East Lansing Modern, 1940-1970," at the MSU Museum through Aug. 18.
The Goetsch-Winckler House in Okemos, Mich., is a compact, one-story Usonian house with signature Frank Lloyd Wright design elements: organic relationship to the site, horizontal planes, cantilever roofs, and the embodiment of Wright's early design philosophy for moderately priced housing.
Designed for MSU art professors, the Goetsch-Winckler House is on the National Register of Historic Places and is the second of Wright's Usonian house designs.
5:30 – 8 p.m.
Refreshments – tours – meet the homeowners
6:45 — "A Modest, Modern Masterpiece," with Dr. Susan J. Bandes, Exhibition Curator and MSU Professor of Art History & Visual Culture
Location:
2410 Hulett Rd., Okemos (parking instructions to follow)
$50 per person
Space is limited.
Register online at our secure site: https://commerce.cashnet.com/msu_3722
Or send check to:
MSU Museum
c/o Goetsch-Winckler House Tour
409 W. Circle Drive
East Lansing, Mich. 48824
(Please include names of attendees)
Questions:
(517) 355-2370
East Lansing Modern exhibition page:
http://museum.msu.edu/?q=node/987

Read more about the home at the Michigan Modern web site:
http://michiganmodern.org/architects-designers-firms/architects/frank-lloyd-wright/goetsch-winckler-house/