a2modern presents "Threads" an evening with Steve Frykholm and Clark Malcolm of Herman Miller, Inc.
a2modern is pleased to partner with Susan Monroe owner of Three Chairs, Co., and Steve Frykholm and Clark Malcolm of Herman Miller, Inc., in a presentation of "Threads."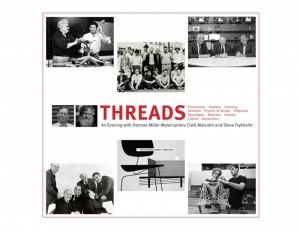 Threads is the story of Herman Miller's history of design, openness to new ideas and people, and respect for individuals. Steve Frykholm, graphic designer, and Clark Malcolm, writer, with a combined 72 years at the company, tell the stories of the people, products, and events behind 107-year-old Herman Miller, Inc. Woven together, the many threads of this history tell the story of how Herman Miller has become what it is today and the origins of the values and culture that will sustain it in years to come. Threads is an interactive presentation; the audience chooses the topics to be discussed. Threads includes images, video clips, and audio segments from Herman Miller's long history of design and innovation.
Thursday, June 6th, 2013
6:30 p.m. Reception
7:15 p.m. Threads Interactive Presentation
Location: Three Chairs Co., 215 S Ashley St Ann Arbor, MI 48104
This event is free however donations to a2modern are appreciated to help defray expenses and for future programs! Note: Three Chairs Co. is an authorized Herman Miller retailer. It just so happens that this event will occur during the Herman Miller annual sale so all Herman Miller will be 15% off!
RSVP, as limited seats are available modernists@a2modern.org
Special thanks to: Morgan & York Fine Wines and Specialty Goods for their generous contribution to the event.