residential modern receive ann arbor awards
Six modern homes received Ann Arbor Historic Preservation awards this past Monday evening June 4th at the 24th Annual Ann Arbor Preservation Awards ceremony held at the City Council meeting! As Susan Wineberg, chair of the preservation awards committee states "Mid-Century Modern is getting more attention." Six such properties were recognized, five of which are in the Ann Arbor Hills neighborhood.
Preservation awards are in recognition of superior maintenance of a significant property to preserve its essential historical, cultural or architectural value for a period of 10 years or more.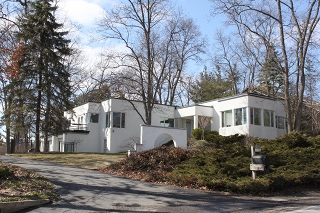 Let's celebrate:
1. Kenneth and Elizabeth Baird – 1223 Pontiac Trail. Residence built by Jean Paul Slusser, designed by George Brigham (1939)
2. Kenneth and Elizabeth Nesbit – 1334 Arlington Boulevard, originally built for UM Professor Carl Rufus and his wife; House known by its "Moon Gate" in the front yard, inspired by original owners' work in astronomy and world travels.
3. Jane and James Kister – 2250 Belmont Road
• Built in 1950
• Designed by Walter Sanders, UM Professor.
4. Peter Hinman – 1075 Chestnut Street
• Built for physician Dr. Lyle Elliott and his wife Pauline in 1961
• Designed by UM Professor of Architecture Robert Metcalf
5. Glenn Watkins – 1336 Glendaloch Circle
• Built in 1959
• Designed by UM Professor of Architecture Herbert Johe
6. Myron and Barbara Levine – 356 Hilldale Drive
• Built for the Levines in 1962 • Designed by Donald Van Curler
In addition, a2modern received a Special Merit Award for the promotion of modernism in Ann Arbor!
Related article:
See related full article at: Concentrate Media