event: modern living program
EMU Preservation Research Techniques Presentations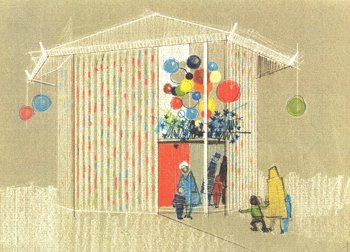 Homeowners and a2modern members are invited to attend presentations about a selection of modern homes designed by significant architects that worked in Ann Arbor neighborhoods – Alden Dow, David Osler, James Livingston, Thomas Tanner, Robert Pond and Tivadar Balogh.
Students in the Eastern Michigan University Historic Preservation Research Techniques course GHPR 602 taught by Dr. Ted Ligibel will present their findings December 8th and 15th.  The students have used Public Records and information from the Bentley Historical Library to understand how the property and structures have developed overtime. The research also includes general information about the owners who built or who have subsequently purchased these architectural gems.
The presentations will be in the Whiting room, Bentley Historical Library.
Date:  December 8th and 15th 5:30 p.m. to 7:00 p.m.
This event is co-sponsored by a2modern and the Eastern Michigan University Historic Preservation Program.
Image citation:  Santa's Icicle House, Tivadar Balogh Papers, Bentley Historical Library, University of Michigan.  For more information on Bentley Library resources call 734-764-3482 or email bentley.ref@umich.edu.